The Oleaginosas del Perú (Olpesa) oil extraction plant does it too. It is the largest plant in the Tocache district, in San Martín, and is able to process 30 tons of fruit every day. "Do you buy fruit from the Melka group?" we asked Jorge Luis Cobos, the company plant manager. In the midst of the hubbub of the National Palm Producers Congress, Cobos' response was firm: "No". Five days later, on Wednesday, 9 May, we had evidence that he was lying. A truck with license plate number ADZ 972 left the plantations of the Ocho Sur P. S.A.C company in Tibecocha, Ucayali, which is linked to Melka. It left with 30 tons of fruit and arrived 48 hours later in Tocache after two nights of rest in the roadside darkness. Convoca.pe followed it and photographed this journey.
It was a typical trip for the geography in that region. The truck followed the same exit route: It crossed the Aguaytía River by raft and then it travelled the Nueva Requena section rocking from one side to the other until it reached the stability of the paved Federico Basadre road. It advanced slowly along this road, which for many years was lined with farms engaged in coca leaf growing and illegal logging. The truck went through the cities of Ucayali, Huánuco and San Martín until reaching the town of Villapalma, in Tocache, on Friday morning, to the odor of rotten fruit that came from the Olpesa extraction plant. A trip from Tibecocha to Villapalma can take close to 18 hours for a truck with a heavy load, stops included. But this truck took twice that long: the driver stopped several times to patch one of the vehicle's rear tires.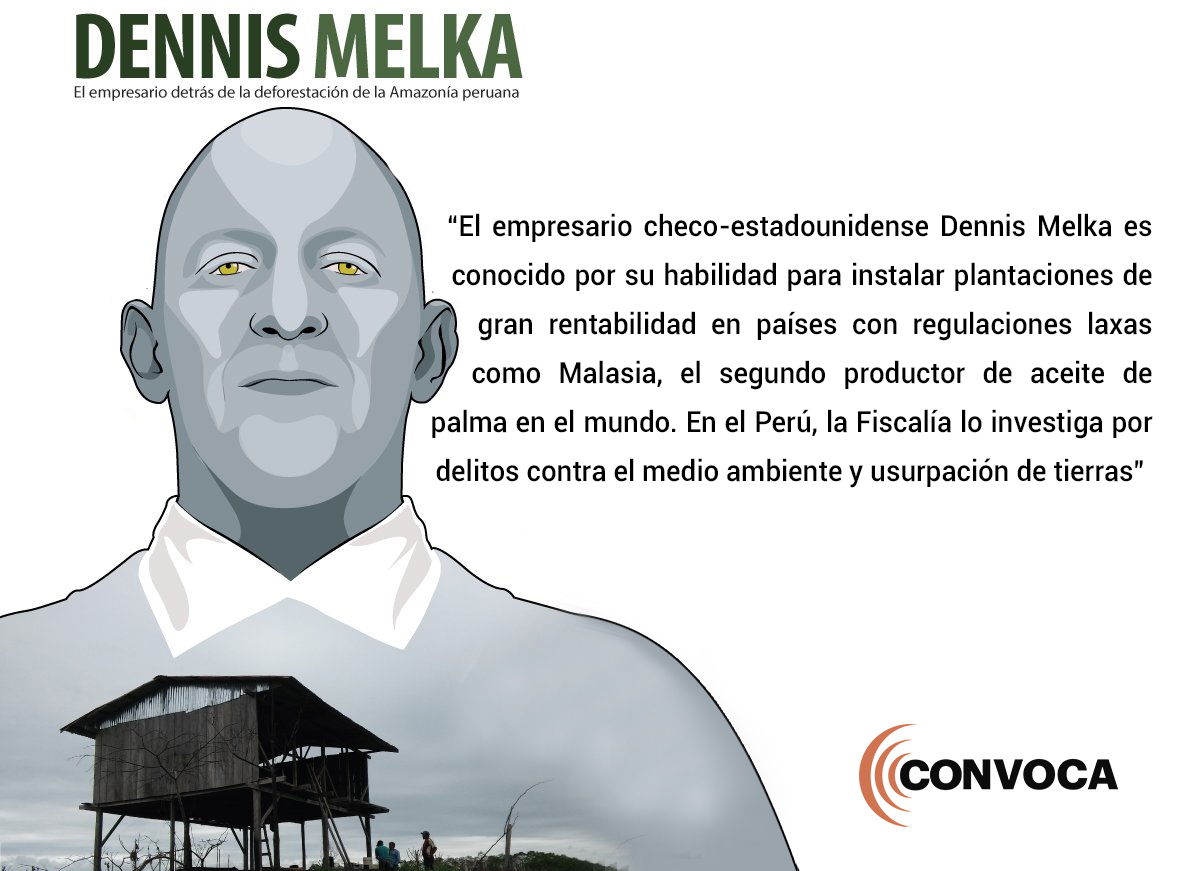 The loads of oil palm fruit originating in the Melka group's deforested areas have intensified since the end of last year, according to the inhabitants of Nueva Requena who see the trucks go by from their homes, statements from the drivers who transport the fruit and the workers who harvest the palm. The authorities investigating the case in the Special Prosecutor's Office for Organized Crime (the Fiscalía contra el Crimen Organizado) in Lima have not been able to stop the constant flow of trucks loaded with the fruits of the deforestation that enter the legal circuit through the extraction plants. The public prosecutors are only pursuing the crime against the environment, not what happens afterwards, when the deed is done. There are no controls to trace the palm's route.